Tuesdays 6:30PM
After graduating from Northwestern College with a Bachelor of Science degree in Education in 1975, I auditioned and was accepted into a group called TRUTH, based out of Mobile, AL. It's leader was the founder and director, Dr. Roger Breland. For the next three years, I traveled with approximately 20 other singers and musicians across the United States and 12 foreign countries averaging over a concert a day and discovering that for as many ways as God created people, there was another way of worshipping Him. While in TRUTH I met my wife Joleen. We were married on August 13, 1977, and remained with TRUTH for another year. During that time, Joleen was expecting our first child and then had a miscarriage in Cumberland, MD, which was a very difficult experience.
When we left TRUTH in 1978, Joleen and I went to Oral Roberts University where I began working on obtaining my Masters Degree in Business Administration and be a part of the World Action Singers. Joleen started taking computer courses. It was here that God taught us about His healing power. During our first year at ORU, there was great joy and also great challenges. Our first daughter (Deidra) was born on September 18, 1979. However, Joleen had severe headaches during the entire pregnancy. After Deidra's birth, it was discovered that Joleen had a malignant brain tumor. The doctor's gave her 9 months to a year to live. However, God was merciful with His healing touch and allowed Joleen almost 40 more years of life and the birth of another daughter (Jaclene) and a son (Joshua).
After graduating from ORU in 1981, we resided for a brief time in Waterloo, Iowa, as the business administrator of a local church before being invited to Charlotte, NC, to be a part of the PTL Singers and the PTL Club. We resided in the Charlotte, NC area for the next 3 years, working as PTL Singers and hosting "Campmeeting USA" for a year and a half.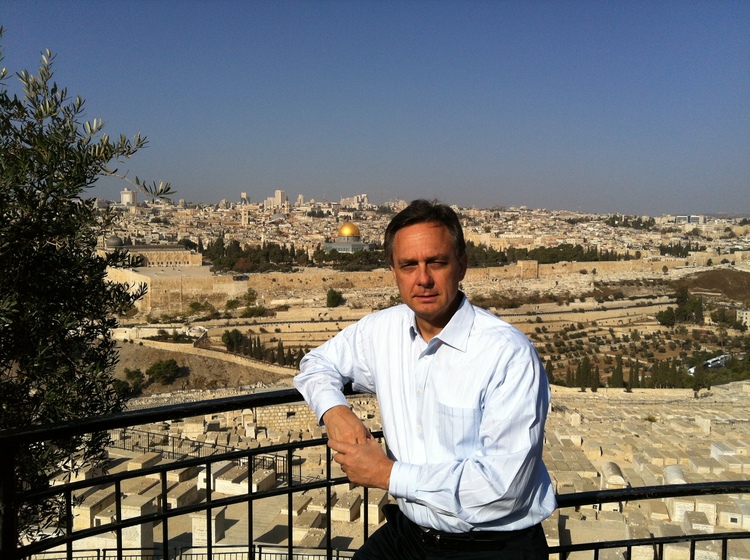 After our resignation from PTL in 1985, we traveled and ministered in Churches for about a year and a half. During this time, I met John Noseworthy. I had been praying for approximately 10 years for God to allow me to go to the land of the Bible. John Noseworthy helped fulfill that dream in January, 1986. John and I became friends during that trip and he asked me to join Noseworthy Travel, helping him in organizing tours to the land of the Bible. I began my employment in October, 1987 and have been a part of that company until the present, becoming president in 1997 when John Noseworthy resigned. John Noseworthy passed away in December, 2003.
For over two decades I have been involved in taking passengers to Israel and other Biblical destinations. I have been to Israel over 150 times since working for NTS and I have had the opportunity to read the Bible from within the setting of the land of the Bible. I enjoy using pictures and other visual aids to help teach people how the locations where Biblical events took place were important in the fulfillment of scripture.